Collect Your Music Royalties! Kindle Edition
A DO-IT-YOURSELF GUIDE for the Self-Administering Songwriter and Recording Artist
by Chris Nole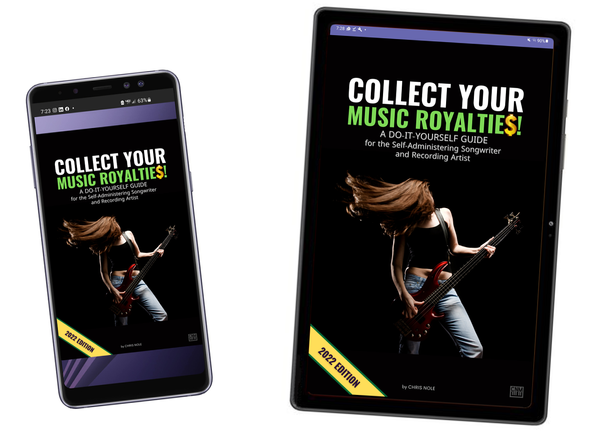 Are you an independent music creator who self-releases to online
music platforms like Spotify, Apple Music, Amazon, TikTok, and Pandora?
Are you clear on what...
a public performance royalty is? 
a digital audio mechanical royalty?
a sound recording rights owner royalty? 
a featured artist or non-featured artist royalty?

Standard digital distribution deals DO NOT collect all of these royalties for you.

Do you know that different types of streams generate different types of royalties?
Do you know that if you do not claim your due royalties within a certain amount of time,
they disappear forever?

This 50-page PDF guide was written specifically for the 
US-based self-releasing songwriter and recording artist. 
Download your copy of COLLECT YOUR MUSIC ROYALTIES now!
Collect Your Music Royalties! Table of Contents and Introduction
Available on Amazon.com

5.0 out of 5 stars Wonderful Primer on Collecting Music Royalties
Reviewed in the United States on June 10, 2022 | Amazon.com Verified Purchase
"This E-book is extremely well thought out, laid out, informative, and up-to-date. I especially found the graphics that show the different income streams and the final checklist for indie artists/admins so helpful. Well done, Chris!"

"To all my musical friends!!! This is so good!! I just got done reading it and Chris does an EXCELLENT and very thorough job on how to navigate licensing and getting your royalties!!! Get your copy now! So much has changed recently, and it is very time-consuming to figure all this out on your own. This E-Book is the most complete and comprehensive I have seen on this topic. Share it!" - Anita S.(Facebook)

MUSIC ROYALTY NEWS UPDATE:
The Copyright Royalty Board in the US is set to approve a 32% increase in mechanical royalties for physical music (vinyl, CDs and downloads). 
The new rate, which will go up from 9.1 cents to 12 cents per track, will happen in 2023.